Surgenor Hyundai Service Centre
Welcome to the Surgenor Hyundai Service Center in Ottawa, where you can always count on receiving top-notch service.  Our dedicated staff in the service center is highly qualified and is constantly training and improving their skills to make sure you are getting the best possible service for your vehicle.
 We understand it can be challenging to bring your vehicle in for service. That's why we created our 2-lane drive through service center, to provide the most convenient and comfortable experience while dropping off your vehicle. While you are waiting for your vehicle to be serviced, relax in our waiting room. We have free wi-fi so you can stay connected and browse the Internet while waiting. There is also television and complimentary beverages to ensure your wait is comfortable and entertaining. If you do not want to wait for your vehicle to be repaired, we provide a free shuttle service to get you home. The team at Surgenor Hyundai works hard to provide you with an effortless and stress-free automotive repair experience.
Common Auto 
Repair Services
Preventative maintenance is an important step in making sure your car stays in great condition. Whether it be scheduled oil changes, filter replacements, or monitoring tire pressure and wear, regularly scheduled maintenance appointments can prevent major costly repairs in the future. With experienced mechanics and a state of the art service center, Surgenor Hyundai provides you with the best in auto repairs. Our knowledgeable staff will quickly perform scheduled maintenance or diagnose and repair any automotive problems. Here are some of the most common services we perform:
Oil Change: Regularly scheduled oil changes prevent major damages to your vehicle. Over the years, your car's oil needs change. Our maintenance team can help you choose the right oil for the mileage on your car.
·   Tire & Wheel Repair and Replacement: With constant wear and tear, tires start to lose their tread, giving them less grip on the road's surface and making control and handling more difficult. Regularly monitoring tire tread can prevent dangerous accidents and give you better control.
·   Car Batteries: Automotive batteries last about four years on average. Testing your battery regularly can keep you from having an inconvenient breakdown in the near future. If you are due for a replacement battery, let the team at Surgenor help you.
·    Brake Check & Replacement: Is the brake check light glowing on your dashboard? Do you feel a slower than normal response when you hit the brakes? Are your brakes making noise when you press down? These are all signs that you should take your car in to test your braking system. If your brakes need replacing, we will walk you through the process step by step to ensure that you understand exactly what services your car may need.
·      Steering & Suspension: The steering system in your car tends to loosen over time, making control much more difficult in your car. If the steering wheel is difficult to turn or you find your vehicle drifting at even small turns, you may need to have your steering and suspension systems checked.
·     A/C Maintenance: Whether you need the refrigerant refilled or a complete A/C system overhaul, Surgenor has the expertise to get your car back to a comfortable temperature.
·   Exhaust Diagnostics: Keep your car from releasing harmful emissions into the atmosphere with an exhaust diagnostic test at Surgenor Hyundai.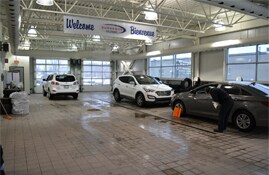 It's Time to 
Schedule 
Your 
Next 
Car Repair
 in Ottawa
You can either fill out our online appointment form on this page and we will contact you by your preferred method to finalize appointment details, or you can contact us directly at 1(888)378-8532,and we'll set everything up over the phone.
If your vehicle needs service, don't delay and let the problem get worse. Schedule an appointment with the auto repair center at Surgenor Hyundai and we'll make sure that your issue gets solved the most efficient way possible.