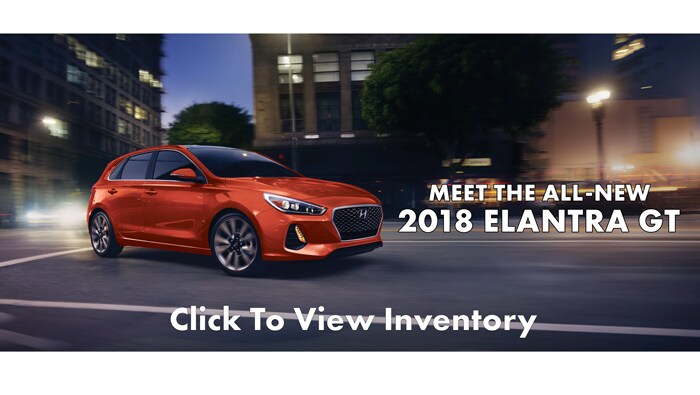 Redesigned with a sleeker, sportier body and a stronger engine, the new 2018 Hyundai Elantra GT has moved beyond the basic, utilitarian vehicle of the past. The 5-door hatchback now has 4-cylinder engine with additional 39 horsepower over the previous 2-cylinder giving you more confidence on the road.
Style
The new look of the Elantra includes an 8-inch touch screen that comes standard in all models, allowing for clear displays that provide easy navigation. There is also smartphone integration with wireless device charging. Heated seats - with stylish a leather option - allow you to truly appreciate the new model's extraordinary value. Finally, the panoramic sun roof gives you the option of enhancing your driving atmosphere, providing you with an open-air driving experience.
The Elantra GT also provides ample cargo space: 25 cubic feet that expands to 55 cubic feet when back seats are folded down (almost a 10 percent increase from previous models), allowing you to take your lifestyle on the road as you search for new adventures.
Performance
The new 1.6L turbo engine sends its power through either a stick shift or a seven-speed dual-clutch transmission. With this upgrade you will feel the improved, confident performance whether on a highway or a country road.
Safety features also include side mirrors with blind-spot detection, lane-keep assistant, high-beam assistant, a review camera, and automatic emergency braking with pedestrian detection.
Whatever new enterprises you have planned for yourself, be assured that the Elantra can take you there in style.